Free* Home Energy Audits
Do You Know Where Your Energy Is Being Wasted?
Our home energy audits include advanced testing to determine the total air loss in your home and HVAC system. Leaks in the ducting and around fixtures in your home mean money wasted. In as little as two hours, one of our teams can test you entire home, fix areas of immediate concern and discuss additional options for even more energy savings.
* Is It Really Free?
In most cases, there is no cost to the homeowner. The cost of your audit and the work involved in sealing up leaks and creating a more energy efficient home is covered by incentives from various electric providers. For more information and to determine if you qualify for the FREE home energy audit, please contact one of our
local offices
.
What We Do
Your energy audit will start with the arrival of a team of trained energy technicians. These technicians will:
Prepare your home for air loss detection tests

Conduct a thorough inspection of the home
Install portable fan(s) and doorway venting for proper home seal
Seal your HVAC Duct system

Conduct HVAC air loss testing with state-of-the-art electronic equipment
Inspect the HVAC system for leaks and repair any leaks found
Conduct a follow-up air loss test to test improved efficiency
Conduct a whole home air loss test
Identify any areas of abnormal air loss and repair those areas

Plumbing penetrations
Lighting fixtures and switchplates
Attic access
Exhaust fan penetration
Energy Saving Radiant Barriers
Radiant Barriers are becoming more commonplace and people are realizing just how much more effective radiant barrier is compared to the traditional mass insulation.
Conventional mass fiberglass insulation, no matter how thick, has almost no ability to block radiant heat energy which can account for as much as 93% of summer heat gain and up to 75% of winter heat loss. These products are only designed to slow down conduction heat energy. Mass insulation is only designed to absorb, slow down and transfer radiant energy.
Radiant barriers work on a proven principle. Heat, like light, travels primarily by radiation, not convection or conduction. Radiant barriers are products having at least one reflective or low emissivity surface. The purest gold, silver and aluminum are the top three reflective materials known to man. Each have a low emissivity rating and reflect from 95% to 99% of the radiant energy that strikes the material surface.
Radiant barriers have been studied and reviewed by many independent laboratories such as: Tennessee Valley Authority, Texas A&M, Florida Solar Energy Center, Department of Energy, Oak Ridge Laboratory and many other institutions which have proven how well radiant barrier performs and its effectiveness in reducing summer cooling and winter heating loads.
Types of radiant barriers
Radiant barriers are produced in two basic types, each having it's own specific benefits. Handy-dan installers are well-trained in each application and can recommend the best solution for your particular needs:
---

E-Barrier Spray-on Radiant Barriers
Rising utility bills and an increasing interest in environmentally preferable options have created a need for energy-efficient homes and buildings. E-Barrier Reflective Coating was developed to address this demand. E-Barrier is an innovative product that reflects radiant heat to keep structures cooler in the summer and warmer in the winter. This one-part coating can be applied to attic decking and previously coated commercial decking. And with the sales opportunities it provides, it's a perfect addition to your list of services.
What Is Radiant Energy?
Simply put, radiant energy is energy that comes in waves from the sun. When those "waves" strike the roof of a home or a building, the roof absorbs that heat, creating increased temperatures in the attic, which is eventually transferred throughout the building. On warm days, this radiant heat results in increased air conditioning costs. On cool days, radiant energy comes from an inside source, like a furnace, and escapes through the attic. So heat and energy costs are actually going out the roof. This transfer of energy is measured as emissivity. The lower the emissivity or e-rating, the better the product is at preventing radiant heat energy from entering or leaving the building. E-Barrier has a low emissivity rating.
How Does E-Barrier Save You Money?
Whether there's radiant heat coming into a house or going out, your customers are paying more than they should. When E-Barrier is applied to the underside of attic roof decking or to previously coated commercial decking, it creates a barrier that reflects radiant energy, helping to prevent it from entering or leaving the building. E-Barrier reduces heating and cooling costs by as much as 15% as certified by an independent testing laboratory*. Upon application you will see: Lower utility costs and increased thermal comfort.
---
Foil-type Radiant Barrier

Energy "Q"™ Reflective Thermal Barrier wrapped around any place with potential heat loss will result in a more comfortable living environment.

Attic - Wrapping Vents
Hot Water Heaters
Garage Doors

Over Existing Insulation
Attics
Don't Forget the Bonus Room

Quality Attic Insulation

Insulation is measured in R-values—the higher the R-value, the better your walls and roof will resist the transfer of heat. Click Here for Standardized R-Value's per material. DOE recommends ranges of R-values based on local heating and cooling costs and climate conditions in different areas of the nation. The map and chart below show the DOE recommendations for your area. State and local codes in some parts of the country may require lower R-values than the DOE recommendations, which are based on cost effectiveness.
Although insulation can be made from a variety of materials, it usually comes in four types; each type has different characteristics.
Rolls and batts—or blankets—are flexible products made from mineral fibers, such as fiberglass and rock wool. They are available in widths suited to standard spacings of wall studs and attic or floor joists: 2x4 walls can hold R-13 or R-15 batts; 2x6 walls can have R-19 or R-21 products.
Loose-fill insulation—usually made of fiberglass, rock wool, or cellulose—comes in shreds, granules, or nodules. These small particles should be blown into spaces using special pneumatic equipment. The blown-in material conforms readily to building cavities and attics. Therefore, loose-fill insulation is well suited for places where it is difficult to install other types of insulation.
Rigid foam insulation—foam insulation typically is more expensive than fiber insulation. But it's very effective in buildings with space limitations and where higher R-values are needed. Foam insulation R-values range from R-4 to R-6.5 per inch of thickness (2.54 cm), which is up to 2 times greater than most other insulating materials of the same thickness.
Foam-in-place insulation—can be blown into walls and reduces air leakage.
If your attic has enough insulation and your home still feels drafty and cold in the winter or too warm in the summer, chances are you need to add insulation to the exterior walls as well. This is a more expensive measure that usually requires a contractor, but it may be worth the cost if you live in a very hot or cold climate.
You may also need to add insulation to your crawl space. Either the walls or the floor above the crawl space should be insulated.
U.S. Department of Energy Recommended* Total R-Values for New Houses in Six Climate Zones - How Much Insulation Does My Home Need?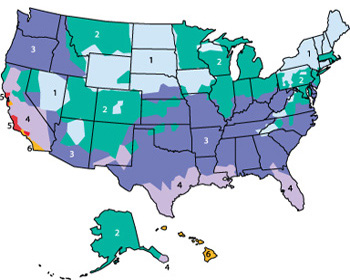 * These recommendations are cost-effective levels of insulation based on the best available information on local fuel and materials costs and weather conditions. Consequently, the levels may differ from current local building codes. In addition, the apparent fragmentation of the recommendations is an artifact of these data and should not be considered absolute minimum requirements.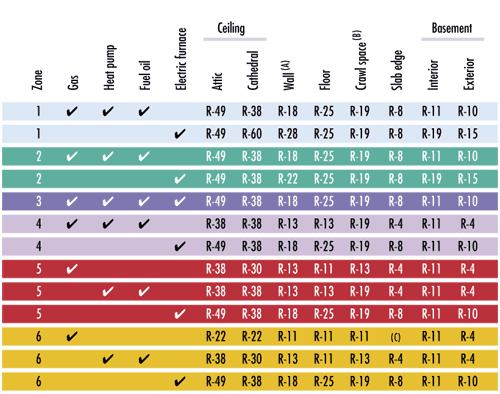 Innovative Attic Tents
Through the years, homeowners who have been aware of air transfer/loss through the attic have attempted to remedy it by placing insulation around the attic door opening. Unfortunately, this technique doesn't provide an air tight barrier, therefore, little reduction in the amount of energy waste and air loss is achieved. It also creates harmful airborn particles of dust and fiberglass each time the attic door is opened or closed.
Scientifically Engineered
The Attic Tent is a specially engineered, patented insulator designed to create an air transfer barrier between your attic and living areas. It is a practical and economical solution to a problem that has existed since homes were first built with overhead attic entries. That problem is wasted energy through and around the attic door and stairs.
Attic Tents Installed by Handy-Dan is the Solution!
As a part of your overall energy savings plan, an attic tent will be an important part in helping to reduce energy bills and increase energy efficiency.
The Sunrise™ Solar Attic Fan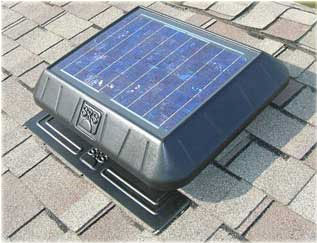 The SunRise™ is a unique, solar-powered vent fan that pulls the heat right out of your attic. It's so effective it can lower attic temperatures by as much as 50° !
This means less heat dissipating back into your living area, less drain on your air conditioning system, and less cost to you. In fact, up to 30% less money spent on air conditioning costs alone!
In the wintertime, the SunRise™ helps equalize the temperature between the attic inside and the outside air. This dramatically reduces the risk of ice dams forming at the eaves--a feature that could save you thousands.
Reduces moisture build-up and prolongs the life of your roof. Even in newer homes that use vapor barriers, moisture can still sneak into the attic and condense on framing boards, roof decking, and insulation.
The problem may be even worse in older homes that have settled and developed cracks or air leaks around bathroom exhaust fans or light fixtures. SunRise™ forcibly expels this warm, moist air, helping prevent the growth of mold and mildew, and significantly reducing the chance of rotting the roofing materials.
Efficient Lighting
In late January 2007, a member of the California legislature proposed a ban on the sale of general service incandescent lamps. By mid March, 2007, countries representing more than 430 million people, or roughly one out of 10 people on the planet who has access to electric lighting, announced the phase-out of today's general service incandescent lamps, and other countries are considering it, as a means of reducing greenhouse gas emissions that may contribute to global warming.
In early March, the Lighting Efficiency Coalition joined with several U.S. senators to call for national technology-neutral performance standards that will phase out the least-efficient products from the market. Specifically, the Coalition called for today's general service incandescent lamps to be eliminated by 2016, which it says is enough time for a phased, orderly market transition. Until then, the group calls for public policies that provide incentives for consumers and businesses to switch to higher-efficiency alternatives.
To ensure a timely and broad adoption of energy-efficient lighting, such as compact fluorescent lamps, Philips recommends that leaders of industry, government and NGOs support discussions to develop a plan to prudently phase out inefficient light bulbs said Brian Dundon, vice chairman for Philips Lighting.
By March 15, 2007 Representative Jane Harman (D) of California introduced a bill (HR1547) in Congress that seeks higher efficacy standards for general service incandescent lamps. The bill is ambitious, seeking to prohibit the sale of lamps that operate at an efficacy lower than 120 lumens/W by 2020 an efficacy about 6-8 times higher than the average efficacy of today's general service incandescents. The bill has been referred to the Committee on Energy and Commerce.
Specifically, it requires DoE, within one year of enactment, to create regulations that would prohibit the sale of lamps that fail to meet the below efficacy standards:
60 lumens/W by 2012
90 lumens/W by 2016
120 lumens/W by 2020
The bill further instructs DoE to identify exemptions, but says that exemptions are only allowable in specialized lighting applications, such as health and safety, and not general illumination. Further, the bill appears to regulate all lamps. Additionally, it instructs DoE to, within 6 months of enactment, submit a plan to Congress that would encourage and provide incentives to consumers and businesses to utilize more-efficient lamps.
The legislation appears perfectly timed with DoE's own efforts to regulate incandescent lamps. The Energy Policy Act of 1992 instructed DoE to initiate general service incandescent lamp efficacy standards rulemaking between 2000 and 2002, but DoE did not meet the deadline. Now it has planned an evaluation of mandatory federal standards for these lamps. An advance notice of proposed rulemaking will be issued by November 2007 and a final rule by June 2009, to take effect by June 2012.
What's at stake: In the U.S., there are about four billion screw-base light sockets that are currently fitted with general service incandescent lamps. If every one of these switched to the most efficient alternative, consumers and businesses could save about $18 billion annually while reducing energy demand by the equivalent of 80 coal-burning power plants and carbon emissions by more than 158 million tons.